Ground-breaking event for Wyre Forest Fire Service and Police Hub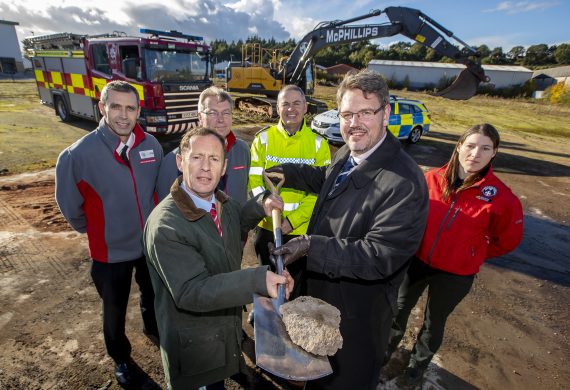 Ground-breaking event for Wyre Forest Fire Service and Police Hub
Development of the new Wyre Forest Fire & Rescue and Police hub was marked by a ground-breaking event attended by senior officers of Hereford & Worcester Fire and Rescue Service (HWFRS) and West Mercia Police.
The 3.5 acre brown-field site, off Stourport Way in Kidderminster, is being redeveloped into a brand new fire and police hub. The £7.6 million investment is being part-funded by £2.38 million from the Government Fire Transformation Fund and will serve all the communities of the Wyre Forest.
The event was also attended by Roger Phillips, Chair of the Fire Authority, the Police and Crime Commissioner John Campion, firefighters from the Wyre Forest, and volunteers from Severn Area Rescue Association (SARA), the water rescue service whose vehicles and equipment will be hosted at the hub.
Roger Phillips said: "The Wyre Forest hub will be a focus for community safety, where the Fire Service and Police can work together with voluntary organisations to deliver the best protection, prevention, and intervention services available.
"In late 2019 we look forward to opening this modern new facility which will be sustainable, efficient, resilient, and fit for modern firefighting and community policing for the years to come."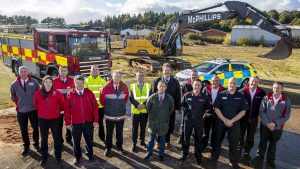 Chief Inspector Jim Baker said: "The Wyre Forest Hub will be the new home to our Wyre Forest Safer Neighbourhood team and Harm hub. Teaming up with the Fire Service on this development will benefit the communities we serve by enabling us to share information and improve our collaborative working."
Following completion of the construction in late 2019, the fire crews of Bewdley, Kidderminster, and Stourport will relocate to the new station. The co-location of these three fire stations – currently with a combined age of 195 years – and the Police Safer Neighbourhood Team, will bring benefits to the community by enabling:
•closer sharing of operational intelligence
•smarter risk prevention activity
•improved incident response activity
Construction of Wyre Forest Hub begins in November 2018.