Work Progressing on new NIFRS Learning & Development Centre at Desertcreat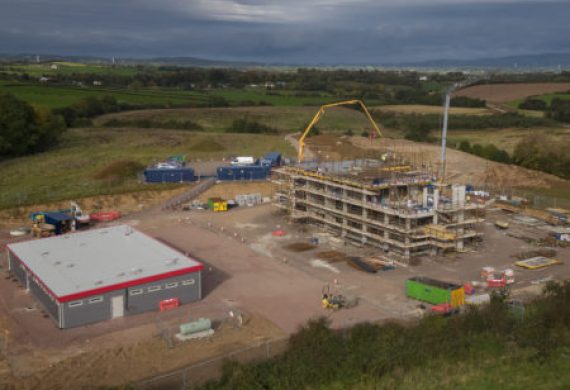 Work Progressing on new NIFRS Learning & Development Centre at Desertcreat
Construction of the new Northern Ireland Fire & Rescue Service (NIFRS) Learning & Development Centre at Desertcreat is progressing well. Phase 1, the Tactical Firefighting Facility, is on schedule for completion in March 2019 and Firefighter training will begin on site by summer 2019.
The Tactical Firefighting Facility is a 6-storey building that will provide a realistic environment for Firefighters to train in 'real fire' scenarios. As part of the £4.8million first phase, the development also includes a building with welfare and classroom facilities and a new access road to the site.
Michael Graham, Assistant Chief Fire & Rescue Officer and NIFRS Project Lead said – "The development of a new Learning & Development Centre for NIFRS has been a critical priority for many years and we are delighted to be less than a year away from training our Firefighters in a dedicated 'live fire' training facility. We will use the Tactical Firefighting Facility to train for high rise building fires and the range of domestic and commercial property fires that we respond to.
"As Firefighters, we are proud of the service we provide to the public when they dial 999 and need our help. Throughout our careers we train to be the very best we can be and the safety of the public and Firefighters at incidents is at the centre of everything we do. Our new Learning & Development Centre at Desertcreat will enable us to train the current and future generations of Firefighters to help deliver a safer community in Northern Ireland."
During a visit to the Desertcreat site, Permanent Secretary, of the Department of Health, Richard Pengelly said: "I am delighted to see such significant progress in the development of the Learning & Development Centre for the Fire & Rescue Service. Phase 1 of the project – the Tactical Fire Fighting Facility – will provide Firefighters with a much needed up to date facility in which to train. I would like to thank all those who have worked together to bring this project to this stage and very much look forward to the completion of the entire facility."
Following the appointment of Henry Brothers Limited as the main contractor for Phase 1, work on the Tactical Firefighting Facility began in February 2018 and will be completed for handover to NIFRS in March 2019.
Design work on a second phase, which will deliver the remainder of the operational training requirements for NIFRS, is ongoing. Facilities in Phase 2 will include a classroom based Learning & Development Centre, training warehouse, training scenario village, road traffic collision facilities and a flood water simulator. Phase 2 has a capital value of circa £40million and an outline business case is currently being developed and will be submitted to the NIFRS Board and the Department of Health by the end of 2018.
Michael Graham concludes – "Our new Learning & Development Centre is not only an exciting opportunity for the future training of our Firefighters but it will also support collaborative working to deliver a safer, healthier community. We welcome the continued support of the NIFRS Board, our sponsoring government department, the Department of Health and Mid Ulster District Council as we deliver on this key programme for government priority."