New fast acting doors for Suffolk Fire Station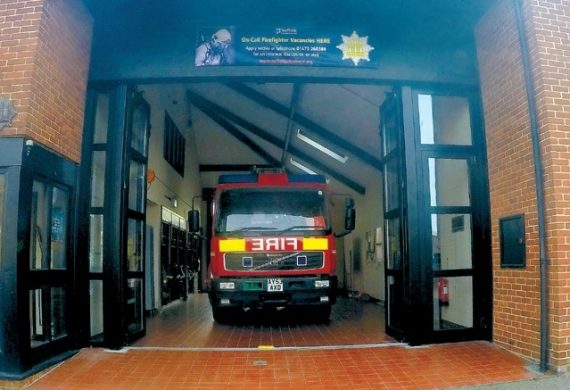 New fast acting doors for Suffolk Fire Station
Suffolk Fire and Rescue Service recently commissioned Norwich-based Cooks Industrial Doors to install two sets of state-of-the-art sliding folding doors at Long Melford Fire Station in rural Suffolk. The original fully glazed, wooden-framed doors had seen better days and were prone to jamming during operation, particularly during inclement weather; an issue often arising when vehicles needed to exit rapidly under blue light conditions.
As a major regional reseller and installer for Jewers' Phoenix range of doors, Cooks commissioned the specialist door manufacturer to design and supply replacement doors that would not only robust and reliable, but constructed in a style that would mimic the original timber doors and maintain the ambience of the conservation area.
Jewers constructed the new doors using durable galvanized steel frames, which were finished with a black powder coating. The doors were glazed to full height using 24mm thick low-E, argon filled double glazed units to allow good visibility and natural lighting whilst maximising thermal efficiency. This not only ensured they matched the appearance of the earlier doors, but that they would have a long life and require minimal maintenance.